Niantic Labs CEO, John Hanke spent some time in San Diego at Comic-Con last week in San Diego and following his Pokémon GO panel, we learned a whole bunch of details!
Firstly Hanke confirmed that what you name your Eevee does matter, as it will influence what your Eevee evolves into. (Rainer for Vaporeon, Pyro for Flareon & and Sparky for Jolteon.) We also got our first look at the leaders behind Team Valor, Mystic and Instinct and learn their names, as up until now all we had to go by was a simple silhouette. Hanke joked the reason for that was because they hadn't finished every aspect of the game by the time it launched, but regardless of whether it is true or not, at least we can get a good look at Candela, Blanche & Spark now.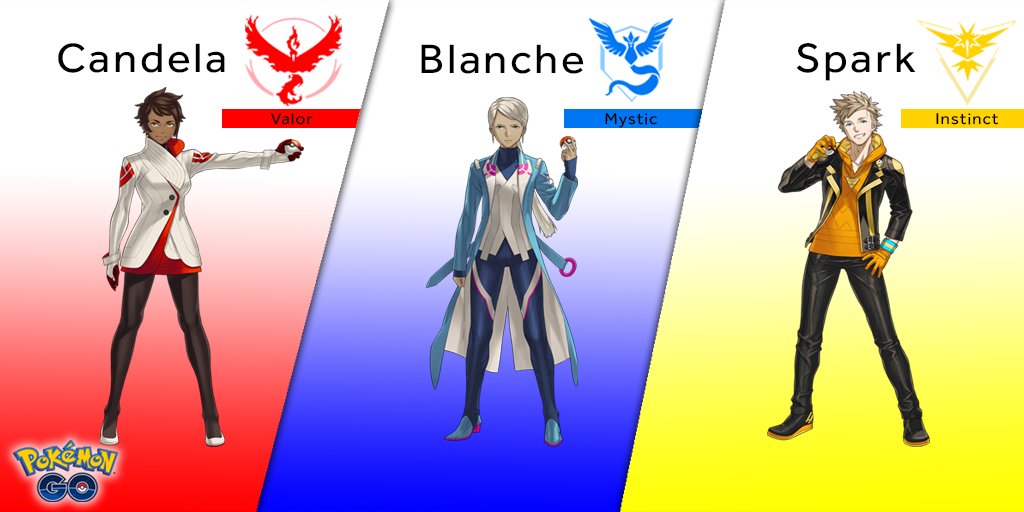 As for other details that emerged, it was revealed only 10% of all the ideas Niantic had for Pokémon GO were implemented into the version we have now and that the developers are dedicated for keeping this game going for years to come, as they release steady updates of new features and new Pokémon to give us reason to play it when it the app becomes stale. Now I could type up the rest of the details in this fashion, but a run-through is much cleaner and sharper, so I'm going to go with that instead:
What we learned about Pokémon GO at Comic-Con:
*Niantic were vastly surprised by the popularity of the game and how quick it had caught on, which caused them to add more servers and then figure out the bugs that made themselves known.
*Niantic class Pokémon GO as a MMO.
*Hanke reconfirmed new Pokémon will be coming to the game in the coming months and years, as he is "looking forward to finding interesting ways to make that happen."
*It has also been reiterated that Trading is important and will make itself to the game soon.
*On the subject of using items to change what function a PokéStop can do, Hanke had this to say: "We think that's a pretty cool idea that you can find an object, acquire an object that's going to change the functionality of a PokeStop and give it new capabilities."
*PokéStops were also brought up again, as this time Hanke re-expressed Niantic's desire to make them more than they already are: "There aren't Pokémon Centres in the game right now, there are some other functionality we want to bring to it – probably through the ability to customize PokéStops along with your friends and teammates to kind of build up an area for your gameplay."
*Breeding has been discussed, but there is no desire to implement it any time soon.
*The Google Cloud Team is helping to back up Niantic and Pokémon GO.
*Niantic intend to add more countries every day.
*There is still no date for training, but it is at the top of Niantic's priority list and it was also made clear that the developers are fully aware of the three step bug.
Sadly though, not everyone (between 6 and 7 thousand,) who attended the Pokémon GO panel was there to hear the latest news and get some answers to questions. In fact they were only there on the chance a Legendary Pokémon popped up, but when questioned about it, Hanke told the crowd flat-out that the likes of Mewtwo would not be showing up during the event and a lot of the audience was not all that happy about it, but not enough to stop them from playing the app.

 

For now, this is all we have regarding the Comic-Con reveals, should any more details pop up come to light from the event, or just in general, you'll be able to see it all here at Miketendo64, the online home of Nintendo News.

 

Source: @NE_Brian of Nintendo Everything

Tags: Comic-Con, John Hanke, Pokemon Go, San Diego Comic-Con 2016


Categorised in: News, Pokemon Go, Wii U

This post was written by Jack Longman