Retro Studios presents the Falcon Punch felt all around the world!
Now that we are less than one month away from E3, we have officially entered silly season, where rumours and leaks come out of the woodwork so fast, that heads soon start to spin like in the exorcist and truth is soon beaten, bludgeoned and suffocated by fiction. It's been this way for years and we highly doubt it's going to change any time soon, not when hysteria, hopes and expectations continue to get the better of fans at an escalating rate. But to be fair, while it is true hype and leaks can ruin surprises, we wouldn't be getting excited so much if we weren't so passionate about video games, our favourite series' and developers. Plus you know, when certain things happen, the way the internet reacts, is simply incredible.
So, with one rumour in particular, dividing the crowds, we felt it was only fitting to cover the rumour, in a much different way. A way which will begin, by laying the cards on the table. According to a post by reddit user DasVergeben, Retro Studios are involved with a new Star Fox game, but not Star Fox like PlatinumGames' Star Fox Zero was, but a spin-off game that falls into the racing category. Only instead of being the typical racer, we might expect it would be, but in space, it will actually be something of a Diddy Kong meets F-Zero hybrid, but with F-Zero gameplay. It's also said there will be an adventure mode, boss fights, a hub world and the title will be Star Fox Grand Prix.
Now, before we get into the whole "If Retro is doing a sci-fi racing game, why isn't it F-Zero?" debate, DasVergeben isn't the only one to say the things he has. In fact, in his post, he actually says others have said a similar thing, which they have correlated with him, Eurogamer's own Tom Philips, has reported he's heard similar things and once the reddit post did go live earlier last week, a logo for Star Fox Grand Prix, soon appeared in 4chan, which you can see here:
Regardless of whether Star Fox Grand Prix is real or not, we do have a couple of facts we can consider. Retro Studios' last developed game was Donkey Kong Country: Tropical Freeze for the Wii U in 2014, which was then ported by them, to the Switch and released this month no less. So, it's been 4 years since their last true game and we know they're making something for the Nintendo Switch, just not what, as even Metroid Prime 4 is rumoured to be developed by Bandai Namco. But here's the thing, Retro have been up to stuff.
From having an exploratory project to new staff hires and more, in recent months, we've had enough rumours regarding Retro to lead us to believe that they could be working on 2 games with one being a Fantasy RPG title (most likely a new IP) and the other being an online PVP game, or one game that's a fantasy/sci-fi mashup with online play as pointed out by Pixelpar and evident in this image: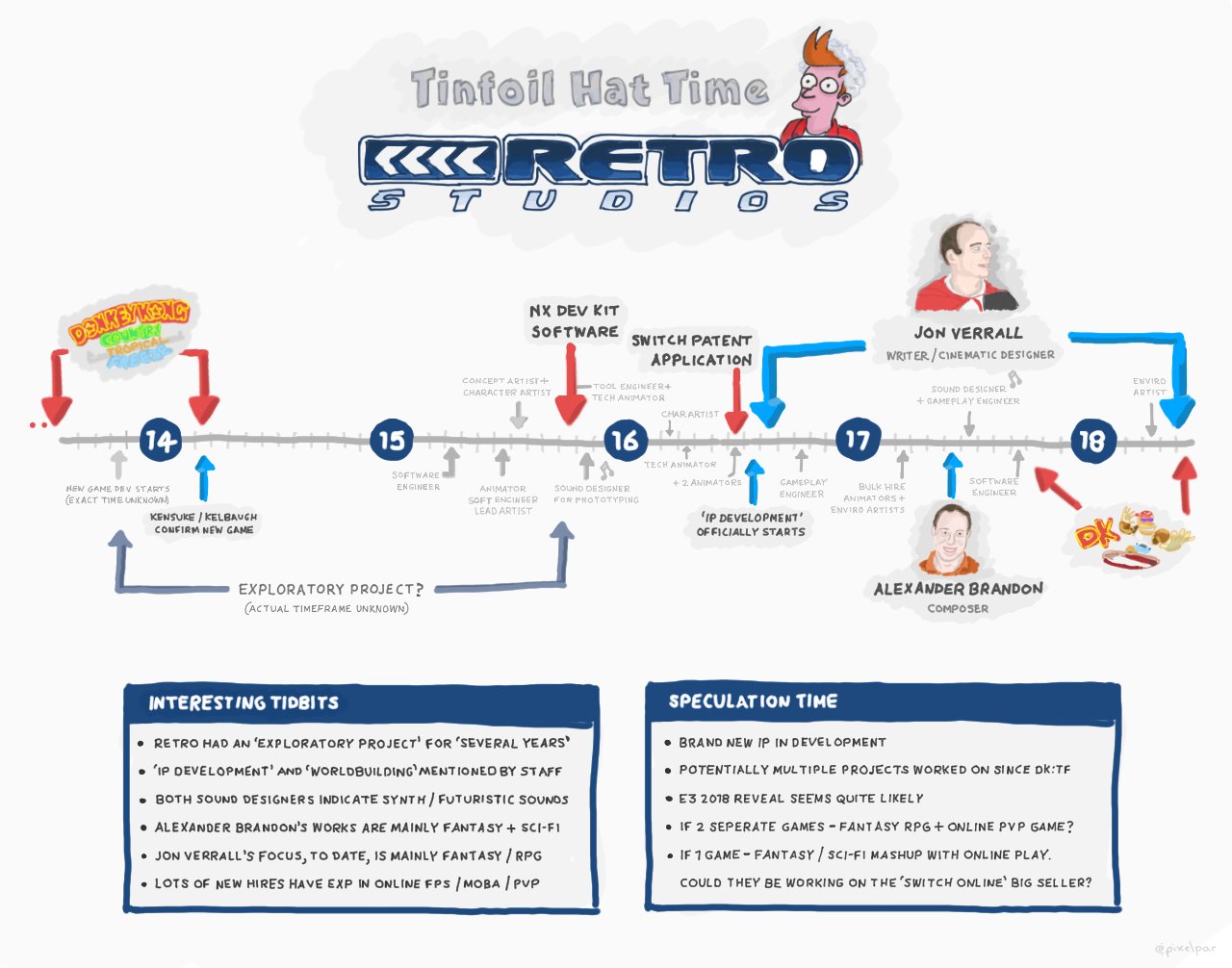 Now, what genre of games works well with online play other than shooting games? Racers? What's one of Nintendo's biggest franchises and is great at shifting units? Mario Kart? So, it's not too far-fetched a rumour that Retro could be involved with a Star Fox racing game, especially when you remember the fact that they did develop 2 Donkey Kong games, 3 Metroid Prime games and oh yeah, they were involved with Mario Kart 7, a racing game. So, were an ambitious racing game that saw to merge the Star Fox universe and skins with F-Zero gameplay, Retro are the kind of developers Nintendo could trust with such a thing and as a studio well renowned for making excellent games, their definitely qualified to pull it off. And it really doesn't matter if gamers like the sound of it or not (so far it's about 50/50,) it was only last year that gamers were praying the heavily rumoured Mario + Rabbids game was fake and it was anything but.
In fact, Mario + Rabbids was revealed at finally and officially revealed at E3 2017 and the game became a hit. It was whacky, yet clever and it was a fusion that became a huge success. This Star Fox Grand Prix, if it is indeed true as even us at Miketendo64 are on the fence about it, it could be the next Mario + Rabbids game. It may not be a true Star Fox + F-Zero crossover as it is simply a Star Fox spin-off, but with the Star Fox series falling further and further out of favour, due to the lack of a "great game" a racing game could be the reinvention the series needs to give the old fox some more life yet, even if it is at the risk of being the final nail in the F-Zero coffin.
Personally, I would rather it was an F-Zero, much like a lot of you have tweeted, as Captain Falcon does deserve a comeback. FAST RMX is great on the Switch, but it only makes us miss him more. Sure, he's bound to return as a fighter in Smash, but racing is what comes natural to him and if he and Samus Aran can't score a cameo in Star Fox Grand Prix, yet Link, Inklings and Villagers can all be in Mario Kart, then what the hell is up with that? But hey, fact or fiction, if Grand Prix is a reality, I kid you not, it could one of those games that serves as a reason why we should all pay out for the Nintendo Switch Online and get have even more respect for Retro. But because I have said enough, it's time for your reactions to the day's proceedings and these are our Twitter highlights: (Don't worry, none of these contain any curse words)
Star Fox Command's ending points to new Star Fox game crossed between Diddy Kong Racing & F-Zero revealing at E3 as Star Fox: Grand Prix.
Racing mixed w/flight & speed & battling bosses throughout levels. An amazing concept!
Confirmation from E3 table setups. I'm Pretty excited! pic.twitter.com/bJGj8BgXfK

— Smash JT ⏻ (@SmashJT) May 14, 2018
Fox McCloud's Dad isn't dead! He's just been training for Star Fox Grand Prix this entire time! pic.twitter.com/tSJ0jy8BXy

— André (@AndreSegers) May 14, 2018
https://twitter.com/jackal27/status/996101793582141442
If that Star Fox rumor is true, then I can see some fans not being too happy with a spin-off game. The meme was already "Donkey Kong?!" now it will be "Star Fox Grand Prix?!" for Retro Studio's lol.

— SuperMetalDave64 (@SMetaldave64) May 14, 2018
So there are already three logos out for Star Fox Grand Prix, and all look eerily similar, yet still different 🤔 pic.twitter.com/9ItGf22Gy1

— ShiggyNeo (@ShiggyNeo) May 14, 2018
With all this #StarFoxGrandPrix talk going around, I'm even more inclined to believe that Retro have been working on Star Fox Grand Prix, Donkey Kong Tropical Freeze (Switch) and Metroid Prime Trilogy HD! I wonder if Retro are now taking the lead on developing Star Fox games? 🤔

— Glenn (@PacmanAndRobin) May 14, 2018
If anything Star Fox Grand Prix is probably gonna be the best Star Fox game since Lylat Wars (aka Star Fox 64).

— BY2K 🇨🇦 (@TheBY2K) May 14, 2018
https://twitter.com/EdwardOutcast/status/996115800338653184
https://twitter.com/XianOliveira/status/996010239261540352
https://twitter.com/ultimatepikafan/status/996121413990928384
My reaction was very negative first but I believe in Retro so much, and there will be a single player mode apparently.

This Star Fox Grand Prix could be the Diddy Kong Racing of our time!

— Other N (@Selenitana) May 14, 2018
https://twitter.com/XianOliveira/status/996044694894333952
I'm all for this Star Fox Racing game rumor but the name and logo "Star Fox Grand Prix" look and sound like such a first draft, basic level idea that I can't believe the rumor to be true.

— Evan Chapman (@iiechapman) May 14, 2018
"Nobody asked for Star Fox racing"

Nobody asked for first-person Metroid either.

— Zalman (@enterzalman) May 14, 2018
I am not even a fan of Star Fox, but to
See Retro's vision of Star Fox is exciting.

"4 years for just a racing game?"
No, 4 years for turning Star Fox respectable again by completely recrafting it.

— Stealth (@Stealth40k) May 14, 2018
The other little tidbit that I have heard from a few is how good Star Fox Grand Prix looks. Exact words were 'best looking game on the Switch'.

— Stealth (@Stealth40k) May 14, 2018
I first heard that Star Fox Grand Prix was releasing Summer 2019, then I heard it might actually make it for this holiday. We will know if it's at E3.

— Stealth (@Stealth40k) May 14, 2018
So i've seens leakers now mention that Retro Studios may actually be developing a Star Fox title, however it appears to be a racing spin-off, including Liam and DasVergeben, ERA John Harker/Emily Rogers have teased similar things. What do ya'll think? pic.twitter.com/cu5ny2itYx

— Gagnetar (@VixenVotaries) May 11, 2018
And now, we play the waiting game to find out if Star Fox Grand Prix is fact, or fiction. Until next time, Keep on gaming!