Written  by:  J.H.  Longman
With Pokemon Go on the horizon, waiting to greet us all in 2016, when it comes to our mobile phones via a free app, what if Pokemon Go isn't the only augmented reality game app we get. What if it comes to the 3DS as well?
Cast your minds backwards to the original Pokedex, the red device that stored information on all known Pokemon at that current moment in time, it was a device similar in width and length to the 3DS XL and, just like Nintendo's portable, it flips open, oh and the 3DS already has augmented reality worked into it, just check out the fun little AR Games: Augmented Reality software.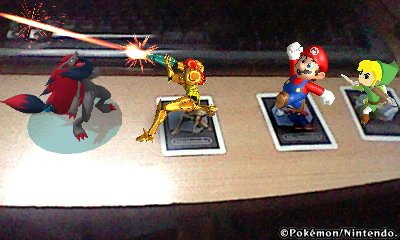 Pokemon Go will be a fine, fine game on mobile, but it would also be the perfect addition to Nintendo's handheld because it can work the same way, scanning the Pokemon you are fortunate to come across and "adds it to your Pokedex," saving all data for you to be able to view. A viewing option that can go down two ways, as the device comes, landscape, or you flip it to portrait with the top screen to your left and the bottom to your right. And this wouldn't have to be a function limited to just this, Nintendo could tweak it so it will scan their range of Pokemon figurines and even playing cards, compiling more and more details to your "Pokemon encyclopedia."
It is highly unlikely that Nintendo would go down this route, but if they did, it would be an incredible step forward and something that really would separate them from their competitors, whilst also making one hell of a 20th anniversary celebration, and let's not forget about the financial benefits this would also give Nintendo as sales of their handhelds, especially their New 3DS normal and XL editions, as sales are sure to spike. 2016 really can not get here fast enough.
Till next time folks. Keep up the good fight and Keep on Gaming!